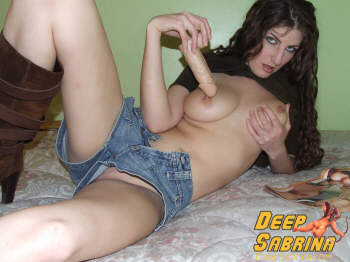 I have a nice collection of porn magazines, at home. I'm a nympho and need to get laid all the time, you know, so, reading some porn, at times, can do me really good eheheh It's not that i need it to get turned on, but rather to make my fingering action wilder and faster, i would say. It is horny to see so many different cocks filling holes and pumping like crazy in just few pages and this afternoon i decided to have a peep at it

While reading it, i started touching my titties, taking special care of my nipples, squeezing them, sucking them and making them wet with my saliva.
Well, the result is that i got wet like crazy and my cunt went in flames, screaming for being rubbed from the inside and being pumped wildly. So, i took my dildo and stuck it up my cunt in one go: i was so wet that i hardly needed any effort to do that! If you look at the picture and the video, you can see that the dilso i used is one with balls…well, i started pushing so hard, that i was close to lose it all inside my pussy, a few times lol. It didn't last long until i felt a hot rush of blood blowing my head and stricking my pussay back and i released that heavy feeling of oppression with an intense, long lasting orgasm, accompanied by a violent squirt of cum which reached the camera and blurred the lens ahahah!
You must see that, and you can! Simply get instant access to my members area and you will be able to see the words above becoming hi-res images in movement. And if you wear 3D glasses, you might even feel like i'm squirting right in your face lol